Web Design and Website Maintenance
custom web design
website redesign
website maintenance
video streaming
content writing
web and email hosting
Emedia Design and Implementation
email design
pdf brochures
banners
Internet ads
Internet Marketing and Search Engine Optimization
pay-per-click campaigns (PPC)
search engine optimization (SEO)
search engine marketing (SEM)
content writing
press releases and articles
e-mail marketing campaigns
website analytics
newsletters
Alpha and Omega
Marketing Group
2030 Main St.
Suite 1300
Irvine, CA 92614
Web Site Re-Design and Upgrading
With todays ever competing market place and changing technology, it's always a good idea to upgrade your site and keep adding to it all the time. Some of our upgrading includes adding:
flash
videos
online catalogs
sale banners
testimonials
speaking charactures and more
more pages
new content
And with our SEO experience, all your new designs and upgrades, we will be helping you reach the top of the search engines, not hindering it.
Web Site Maintenance
We can continuously maintain your site and we can bring your site fresh new ideas all the time.The goal is to always get your visitors engaged in the site as much as possible.
Web Hosting
Do you need hosting for your site? We can handle that too. Our hosting services offers:
complete web based email programs
unlimited email accounts
autoresponders
mailing lists
dedicated IP's
unlimited domains
unlimited disc storage
ecommerce
databases
Whatever you need we can get it for you and manage it for you at an affordable price.
from this: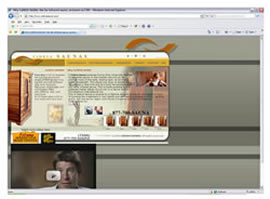 to this: